No Stranger To Scandal is the fourth book in the Daughters of Power continuity.
Reviews
Back to Books
Buy from iBooks, Amazon, Barnes & Noble, Harlequin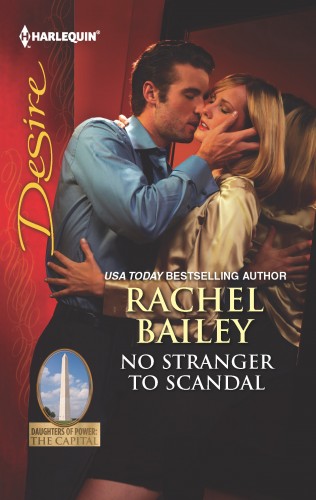 4.5 stars
Hayden Black is a special investigator looking to bring down a powerful media mogul, and his first interview is with the man's stepdaughter, Lucy Randall. Lucy is sure her stepfather would never condone the type of wiretapping action they say he did, so she begins her own parallel investigation — as her relationship with Hayden escalates. Hayden and Lucy face a lot of obstacles, not the least of which is Hayden's fear of another involvement after his wife's death. Thanks to Bailey's pitch-perfect writing, readers will root for Hayden and Lucy to find their happily ever after in this installment in the Daughters of Power: The Capitol series.
4.5 Hearts
If you like a romance that has instant sparks, an intriguing plot and a couple that will have to fight for what they truly want, then you will like No Stranger to Scandal by Rachel Bailey.
5 scandalous stars
I thoroughly enjoyed No Stranger to Scandal, it's my first introduction to the Mini Series Daughters of Power and what an introduction!
The plot instantly captured me.  I was caught up in a whirlwind of intrigue and scandal.  Hayden Black is a congressional investigator who's been put on the case to find out and hold accountable whoever is responsible for illegally taping phone conversations.  The top of his hit-list is Graham Boyle, head of news network ANS.  Hayden decides Graham's step-daughter Lucy is just the person to start investigation with and calls her in for an interview that she can't decline.  The attraction is instant and they have to ignore it.  Lucy is determined to clear her step-father's name and Hayden is double determined to pin Graham as the culprit.  Add lots lots of twists and turns and the cutest little boy ever into the mix and you're in for a fantastic ride!
I loved how I was hooked immediately.  The drama and intrigue is bursting out from page one.  I instantly warmed to Lucy.  She not only has to prove to the world her step father, the only family she has left, is an innocent party but she also needs to proved to all her colleagues that she deserves her spot as a reporter; that she didn't just land the job because of who she is.  So when it's starting to look more and more like her step dad is innocent she's not sure where to turn.
Hayden is 100% sure of what he wants and needs to do in order to lay charges but distractions are coming in left right and center.  He knows what's right and what will happen to the investigation if he looks twice at Lucy.
No Stranger to Scandal isn't light and fluffy but it's not dark and cloudy either, I found it to be the perfect mix of mystery, scandal, captivating intensity and fascinating characters I was completely engrossed.
With a brilliant backdrop, first-class twists and turns, witty dialogue and sensational characters I thoroughly enjoyed Rachel Bailey's No Stranger to Scandal and I look forward to reading the other books in this mini series.  TashNZ