The Nanny Proposition is the first of The Hawke Brothers series. They are:
Reviews
Buy at iBooks, Amazon, Barnes & Noble, Harlequin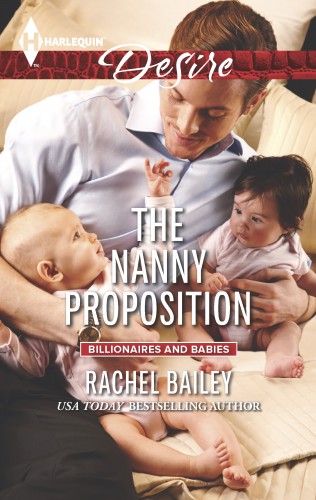 Ms. Bailey has created a wondrous world with the Hawke family. Between Liam and his brothers not to mention his parents, I can only hope that this is the beginning of a series. Her descriptions of the players have them jumping to life from the pages and enacting her words. While yes, the story is very fairy tale it also has the element of realism and some pain, from the loss of parents. This is a story that has somehow managed just the right recipe of heat, sweetness, romance and reality. Or as Ms. Bailey put it "That sounds like a recipe for heaven.
5 hearts
Jenna has a past she doesn't want anyone to find out about. Liam has a consequence from a past entanglement literally handed to him and about which he previously had no idea. He desperately needs a nanny and approaches Jenna, his brother's housekeeper, who takes on the job of helping Liam out.
All may have worked out well but Jenna also has a secret and Liam is very reluctant to become involved with anyone. There is only one thing in the way of their determination to keep things on an even keel…their growing attraction to one another. Despite all the best efforts, things come to a head and Jenna realises she's will have to tell Liam the truth. What worries Jenna is how Liam will react.
Rachel Bailey has written a beautiful romance with a genuinely sweet heroine and a strong yet gentle hero. I loved the outcome of their story and I'm sure Rachel's followers will enjoy reading about Jenna and Liam.
The Australian Romance Readers Association
This is a story that pulled me in from the first page. It is moving, emotional and very sensual as together Liam and Jenna learn more about each other and the two girls. They all grow closer together. Jenna is such an understanding and caring person and she sees and understands Liam so well but Liam also knows that Jenna is holding something back. When Jenna helps with the launch of the new lily Liam has created, love causes a few problems. When Jenna tells Liam her secret, will he be able to get over his apprehension of people who come from a totally different upbringing than him? Liam, Jenna, Meg and Bonnie have become so close. I loved this journey to a HEA. It will have you smiling and tearing up—don't miss this one.
5 stars
The cover first drew me to this book, and the fact it was written by Rachel Bailey whose work I always enjoy. What I didn't expect was how much I would love all her characters. This time, it's not just adults who tug our heartstrings; there are two beautiful baby girls, Meg and Bonnie who will beguile you too.
Liam Hawke hires his brother's housekeeper, Jenna Peters, as nanny to his baby. Under the circumstances it's a good move for both of them. Jenna can keep her own daughter with her while she works and Liam gets Jenna to teach him parenting skills since he has had no time to learn them. Everything is fine, except for the mutual attraction fuelled by living under the same roof and the odd secret or two that lies at the heart of what both hold dear.
This is a lovely story with beautiful interactions between the adults and the babies. I doubt anyone could not find Liam sexy as he learns to care for Bonnie while falling completely in love with his brand new daughter. A gorgeous, rumple-haired man at midnight certainly wins Jenna's heart as she and her little girl, Meg, fall under Liam's spell too.
Touching, heart-warming, sexy but with family at its core, this story is an all-round winner for me. It's one of my keepers.