Bidding on Her Boss is the second book in the Hawke Brothers trilogy. In order:
Bidding on Her Boss (Dylan Hawke)
Buy from iBooks, Amazon, Barnes & Noble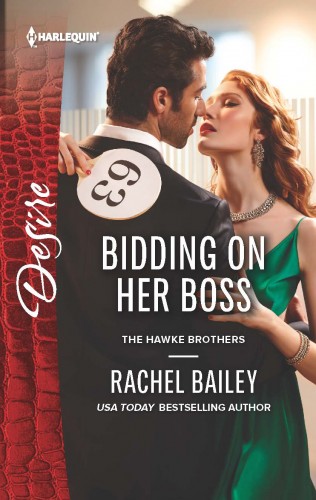 What happens when an ambitious employee buys her boss at a bachelor auction? Find out in this story from USA TODAY bestselling author Rachel Bailey! 
Florist Faith Crawford has a brilliant plan—win her company's CEO at a bachelor auction and use their "date" to show him her designs. But her plan backfires when the focus of their meeting shifts from flowers to a floor-tilting kiss.
For Dylan Hawke, it's time for damage control. Promoting the talented Faith is a no-brainer, but fraternizing with her is strictly forbidden. Dylan must remain professional—the fate of his business rests in the balance. Too bad Dylan won't rest until he gets another kiss…