Bidding on Her Boss is the second book in the Hawke Brothers trilogy. In order:
Reviews
Buy from iBooks, Amazon, Barnes & Noble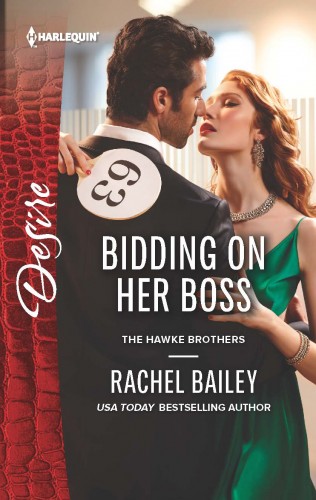 BIDDING ON HER BOSS (4.5) by Rachel Bailey: To raise money for homeless children, Dylan Hawke offers a trio of dates at the inaugural auction event for the Hawke Brothers Trust. Faith Crawford works in one of Dylan's florist shops and places the winning bid because she wants to show him her flower designs. The chemistry between them is overwhelming, but they try to remain professional because of a company fraternization policy. Will they be willing to take a chance on love? The storyline is quirky and original, creating a romance with enough heat to start a fire! Dylan and Faith have an instant connection; readers will fall in love with their intensity.

WOW! First let me say thank you Ms. Bailey for providing her readers with another amazing Hawke brother. This is the third in what looks to be a trilogy, though it can stand on it's own, but believe me with Ms. Bailey's writing style you will want to pick up the first and then be frustrated as we await the last. Ms. Bailey has a way of writing as if you are there experiencing these emotions and having these feelings right along with the characters. With enough details to keep you with the big picture it never feels like you are bogged down by anything. The plot is steady to quick depending on where you are in the novel and without saying anything more do yourself a favor and go pick this one up.
Amazon Reviewer
5 stars
A fantastic second book in the Hawke brothers trilogy. Rachel Bailey has penned a wonderful book about Dylan and his attraction to a florist that works in one of his shops. Faith Crawford bids on her boss at an auction as she knows she can't date within the company because of policy but only wants to show him her designs in hope of doing more within the florist. Sounds like it could work but they fall for each other and that's easy because Dylan is to die for. Read this book and you will fall in love with him and enjoy their finding each other. Wonderful description of what running a floral business adds to the charm. Loved that they brought all the characters in the book from the first the nanny proposition and am very anxious to meet the next brother.
 5 stars
 This is such a fabulous story I loved the first one in the series and now we get to read Dylan's story and meet the beautiful florist Faith Crawford who will make such an impact on Dylan's life.
 This is a story not to be missed it is emotional and sensual as Dylan and Faith try so hard to stick to the company rules but in the end give in to their feelings but is this enough for Faith who has a lot to overcome. I highly recommend this story and I am very much looking forward to Adam's story thank you MS Bailey for another fantastic story.
5 stars
Could not put this book down! Read it in one sitting.
I was pleasantly surprised by how much we saw of Liam, Jenna, Meg and Bonnie fromThe Nanny Proposition that we saw in this book.
I think part of why I could not put the book down was the "will they, won't they" that was the result of Hawke Bloom's non-fraternization policy.
Not so patiently waiting for Adam's story now.
 5 stars
I love this book it was captivating all the way through to the end. Once I started I could not put down this book. The author did an great job of expressing the characters in a style that was both honest and lighthearted. This is definitely a must read.