I live with my own personal hero and four dogs on the east coast of Australia. Our house is on my dream property – 10 acres of native trees on the side of a hill, within driving distance to the beach.
I've always loved dogs. I love all animals, but dogs have a special place in m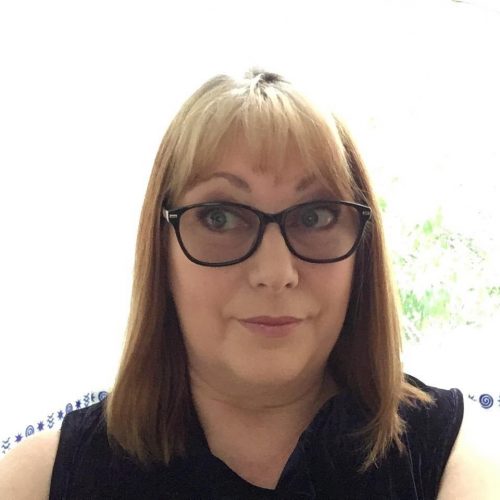 y heart. My current pack is: Dougal the Border Collie (the most perfect dog that ever there was), Oliver, a black Lab x doberman (the Heathcliffe of dogs – all brooding, clingy and likely to snap), Princess Ava the rescued greyhound (she's always posing as if a camera is hovering nearby), and Billie our other rescued greyhound (who is still settling in and wondering what she's got herself in for.
The first photo is  Dougal, with his favourite thing in the world – a mucky tennis ball. According to Dougal, the humans love it when he chases the ball and brings it back, so he'll do it all day long if we let him.
Next is Oliver, giving me a slow wag because I asked him to stay while I took the photo. He thinks things would be better if I put down the silver box thing and gave him a pat.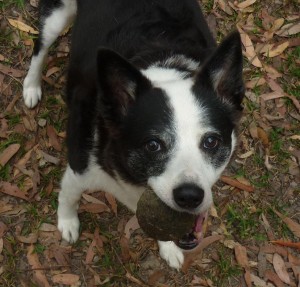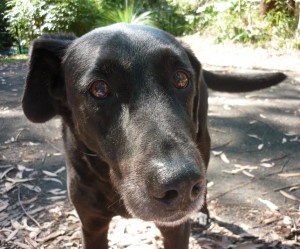 Then in the blue coat is Ava, who is modelling what the fashionable greyhound is wearing this winter. And finally Billie, who is getting used to the camera and wasn't sure what I was doing when I was taking this picture.
Reading
As a teenager, I was a voracious reader of science fiction, until one day when I was 16, I saw Pride and Prejudice on television. The old version with Laurence Olivier and Greer Garson. I adored it. I'd seen it in the TV guide and, since I had a crush on Laurence Olivier after seeing him in Henry V, I'd taped it.
I watched that tape so often I can still recite most of the dialogue by heart. I sought out the book, devoured it, then found every other Jane Austen book and read and reread them frequently. I only discovered romance as a genre as an adult. Imagine my delight when I first read modern versions of Jane Austen!
Now I read most subgenres of romance, from category to historical to romantic comedy. Such a banquet!
Careers
At school, I wasn't particularly interested in writing or English. Science was my favourite subject and I took chemistry, physics and biology. My mother still teases me that I'd take my science textbooks away on holidays with us.
After school, I enrolled in a science degree (of course) but impulsively changed to an arts degree on the first day. I double majored in psychology and went on to do a second degree, this time in social work.
I loved practicing social work, but now have the perfect job – I spend my days in the peace and quiet of my trees, surrounded by my dogs, making up stories for a living.
Favourite Things:
TV shows: Bridgerton: desperate for season 2! Schitt's Creek: slow to get going, but then hits you in the feels. Doctor Who: especially David Tenant's seasons. West Wing. Great writing, great acting, great everything.
Singer: Elvis. He's the king.
Food: Chocolate. Soft, so it coats my tastebuds.
Restaurants: Indian and Thai.
Wine: Anything bubbly.
Authors: Jenny Crusie and Jane Austen. Both have fabulous wit, sparkling dialogue, great characters and happily ever afters.
Season: Spring. It's not too hot, not too cold.
Flower: Lily. Any and all types.