Reviews
Buy at iBooks, Amazon, Barnes & Noble
The Summer of Jake is loosely connected to The Finn Factor.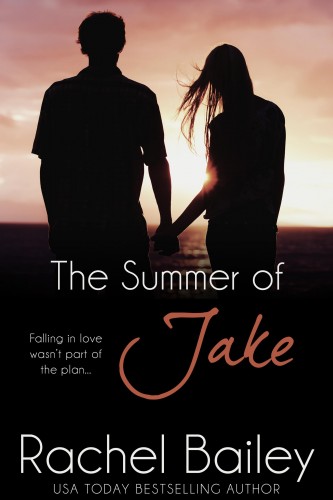 The Summer of Jake is a wonderfully written book of first love, second chances, romance and passion. The book explores those awkward teenage years and adulthood and how second chances can be the best thing to ever happen to you.
Rachel Bailey's writing is incredible and leaves you breathless. With each page turned, The Summer of Jake leaves you wanting, no, needing more. The chemistry between Jake and Annalise is written on every page even when they try to deny it for themselves. The passion between them heats up the pages and leaves you cheering for this couple from the very first one.
The Summer of Jake is a five star, oh my god, give me more read. Rachel Bailey has official turned me into a fan girl who needs more of her work. I absolutely loved The Summer of Jake and think it's the perfect beach read for all of you still lounging in the sun and enjoying the last rays of summer.
Australian Romance Readers Association
This story had me hooked from the first page. The banter between Annalise and Jake is so good. Annalise realises the crush she had on Jake at the tender age of 16 is a lot more than a crush, one that has lasted. With Jake trying so hard to not be like his father, there are a few hurdles to overcome and love was never even thought of as part of the plan. With Kelly and Kelly and Jake's mum, Eden, adding to the story, this is one you will not want to put down. The setting is so good: Bondi Beach, summer and a hunk, what more could you want in a story? Do not miss this one, it is a must read. It will have you smiling, tearing up and cheering them on.
5 stars
I've got a soft spot for Australia so any book that combines my favourite country (next to my own dear Canada-land) and my favourite genre generally makes me happy. The Summer of Jake by Rachel Bailey ticked off those two boxes and then some in terms of a great read! I loved it and it is definitely worth every one of those five stars!
The Summer of Jake made me laugh, made me get a little teary at parts and definitely made my pulse pound in parts. This book is a great summer read, or fall read, or winter read, heck, even a great spring read! Pick up a copy today, you will not regret it!