Countering His Claim is a stand alone book.
Reviews
Buy at iBooks, Amazon, Barnes & Noble, Harlequin
Back to Books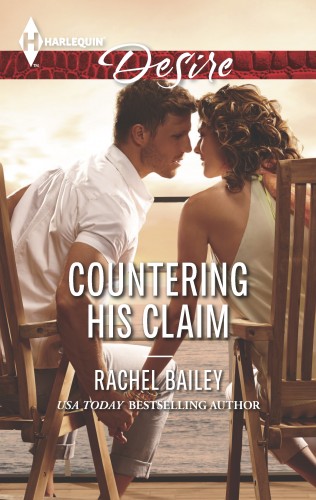 COUNTERING HIS CLAIM is an emotional story. The progression of love between Luke and Della is tender and overwhelms the heart. The poignant and realistic way in which they deal with their pasts and any future hurdle is truly magical to read. Rachel Bailey spellbinds us with her superb storytelling. This romantic tale is rich with emotion and all of the characters are exquisitely rendered. The setting on the cruise liner gives us an escape which is incomparable!

Countering His Claim by Rachel Bailey is a well written Harlequin Desire with emotionally scarred characters who find love in each other on high seas. The romance was medium paced filled with conversations and passion which makes it so believable. Luke was the best part of the book and a complete prince among men because of the way he treated not just the heroine but everyone. Della was also emotionally damaged but I found her more scarred than Luke because of what she had gone through. I liked her because she was very realistic,mature and I was never annoyed by her.
Rachel Bailey was a new author to me until I read COUNTERING HIS CLAIM (in exchange for an honest review). I'm oh so very pleased to have found her!  Her latest book, COUNTERING HIS CLAIM (Harlequin Desire) is a positively lovely story. To top it off, look at how classy this cover is! It's definitely one of the best I've seen in a long, long time.
Della and Luke are each more than a little damaged from events in their pasts. Della, having grown up on cruise ships, feels very strongly about keeping the ship out on the water and Luke is equally determined to turn it into a hotel. Their attraction to each other is instantaneous, but they don't act on it immediately which is a nice example of story building. Ms. Bailey's work should be enjoyed by all romance readers. I'm off to shop her back list!
Countering his claim was a very satisfying read. Let me count all the great things about this story. Della, the doctor heroine, and Luke, the entrepreneur hero, are engaging- I wanted them to find their happy ending. Of course, it wasn't clear how they were going to do this, given their nicely opposed goals! They've each inherited half of a cruise ship. Luke, the nephew of the deceased owner, expected to inherit it all and had plans to anchor it and run it as a hotel. Della, the ship's doctor, convinces Luke, our smoldering hero, to spend time appreciating the ship as it cruises. We learn at just the right pace what motivates the heroine, making her independent and eager to rely only on herself, why she loves cruising and how she is selling herself short… The hero has his own challenges, not quite as daunting as Della's, but enough when combined with his suspicions about the split inheritance, to give the book great tension. I think I'm not going to write a spoiler. Instead, I want to say that the book is sweet and hot, not at all raunchy. The adventures shipboard are lovely- I've not taken a cruise and the author made the activities and excursions sound great. I re-read the ending of the book from that black moment when Della leaves the ship, convinced they cannot find a way forward until Luke lures her back. It's great. What a deft touch this author has.